Fredericton: (506) 458-9538
New Bandon: (506) 365-7577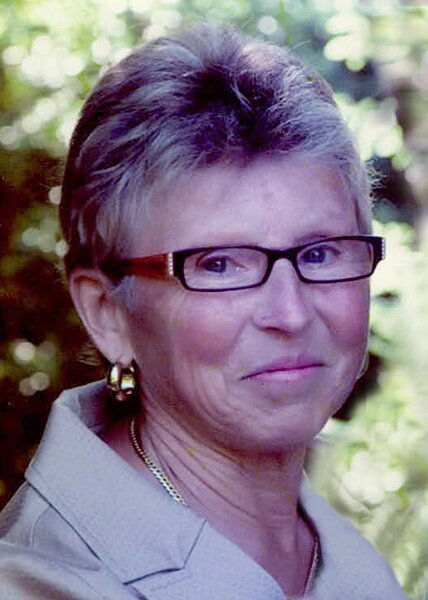 Share Your Memory of
Marilyn
Obituary of Marilyn Louise Corey
REGISTER HERE TO VIEW THE LIVE STREAM
Marilyn passed away peacefully at the Dr. Everett Chalmers Hospital, surrounded by her loving family, and she now joins her loving husband (Wayne) and best friend of 60 plus years, Wayne. Marilyn spent the last week of her life reminiscing, telling stories, laughing, and preparing everyone around her. There were many texts, e-mails, video calls, phone calls, and face to face conversations with family and friends all across Canada. Her family was honored and proud to support such an amazing woman.
Marilyn is survived by her two sons, Colin (Michelle) and Scott (Lisa), who have always been by her side, in life and adventures, as well as her four grandchildren, Emma (Nathan), Tyler, Evan, and Ben; her two sisters, Delores, Linda and her brother Gerald, as well as many nieces, nephews and cousins, including Danny, Timmy, Jolene, Krista, Peter, Bobbi, Calvin, Heather, Colleen, Shari and Amanda; predeceased by her parents Perley and Willa, her husband Wayne, her brothers Merlin and Robert; her nieces Gwen and Karen and her nephew Edwin.
Born and raised in Nackawic, NB, Marilyn graduated from Lower Southampton High School in June 1960, married Wayne in August, 1961, and had Colin in June 1962. They moved to Fredericton in 1963 and Scott was born in December 1965. Over the next 15 to 20 years she raised the boys and pursued her passions as well. She was very active and was an avid runner and a dedicated member of the YMCA in Fredericton for many years, where she made many lasting friendships. As the boys grew older, she took on roles at the Kingsclear Forest Nursery and worked for NB Liquor in Fredericton for a number of years. She ran a number of full marathons in her late 40's and early 50's, including a 4 hour finish at the NYC Marathon in 1992.
Marilyn had a kindness and ability to listen and provide advice and wisdom to anyone she thought might benefit from it. Everywhere she went, she left lasting positive impressions on people. She was 4'11" and 105 pounds but lived life far above her weight class.
Special thanks to Dr. Gordon McDonald and Dr. Kelsey Cameron and all of the amazing staff in Palliative care at the DECH. We can't say enough about the level of care that they gave Marilyn and her family through the difficult process over the last week of her life.
York Funeral Home will be hosting a visitation with the family on Friday, October 15, from 5 pm to 8 pm (casual dress) and a Celebration of Life service on Saturday, October 16 at 2 pm (business casual). There will be a reception from 4 pm to 6 pm, announced during the service. For those unable to attend the service, it can be viewed by registering through the Funeral Home's Website (Click on the link in Marilyn's obituary).
Face masks and proof of full vaccination and government issued ID will be required at the funeral home. Donations can be made to the Fredericton YMCA and condolences can be sent to www.yorkfh.com