Fredericton: (506) 458-9538
New Bandon: (506) 365-7577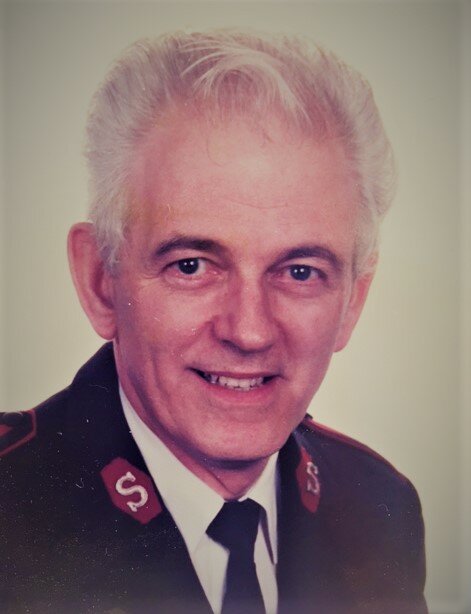 Obituary of Capt. Herbert Goodridge
Capt. Herb Goodridge of Fredericton was promoted to Glory on Sept 17, 2021, surrounded by his beloved family. Born in St. John's NF on November 3, 1938 he proudly served in the Canadian Armed Forces (RCHA) for 25 years including 3 postings to Germany where he was a light of witness to his fellow soldiers. Following his retirement as Sergeant, he answered a calling to serve in the Salvation Army, beginning his work in Family Services but spending the majority of his 18 years in the Correctional Services field where he ministered to the needs of many souls inside the Atlantic penitentiaries.
Herb faithfully taught Sunday School for most of his adult life and was also a leader with Christian Service Brigades for many years. One of the things he enjoyed most was travelling and he visited many places and countries in his lifetime. In addition, he spent countless hours as a Christmas Kettle volunteer for the Salvation Army. He also seldom missed an opportunity to participate in a Volksmarch where the goal of collecting a gold medal was to him worth every step of the 20-kilometer journey.
Herb's primary passion however was always for his family and he was fiercely devoted to his loving wife Alice through 63 years of marriage and many have commented on the love and devotion they shared with each other. In addition to his wife, Alice (Thompson), he is survived by his daughter, Sherry Brewer (Kevin); grandchildren, April-Dawne Colter (Chris), Jennifer Sharpe, Brandon Moore, Jessica Sharpe (Rob Young), Logan Brewer (Samantha); great grandchildren, Kourtnie, Jacob, Cody, Tye, Taylor, Jace, Maevyn; great-great granddaughter, Lexi; and several step grandchildren. He is also survived by one sister, Florence of St. John's, NF.
Besides his parents. Herb was predeceased by his daughter, Cindy Gilmore; and sisters, Margaret Cruz and Jean Cutajar.
Public visitation will be at the Salvation Army Fredericton Community Church located at 531 St. Mary's Street, Fredericton on Monday, September 20, from 1-3 and 6-8 pm. Service to be held at same location Tuesday, September 21, at 2 pm with interment to follow at Sunny Bank Cemetery. Donations to Salvation Army Fredericton Community Church. Personal condolence may be offered through www.yorkfh.com
Share Your Memory of
Capt. Herbert